Complete Story

02/03/2017
NY17 Clinical Conference and Exhibition Attracts Thousands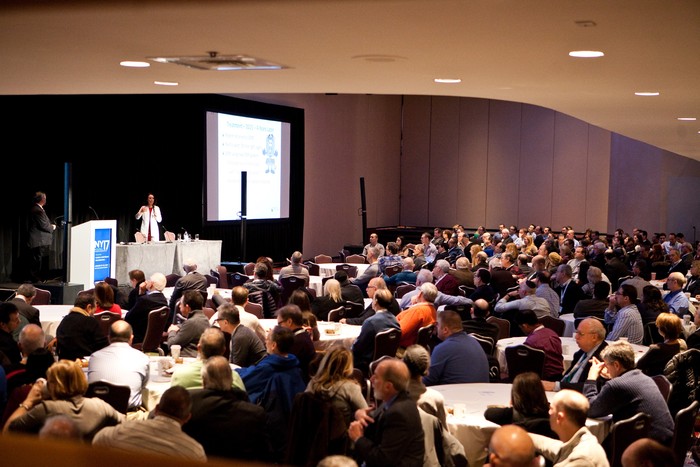 The NY17 Clinical Conference and Exhibition attracted nearly 2,500 DPMs, MDs, podiatric assistants, lecturers, students, residents and exhibitors from across the country and around the world. The nation's largest state-sponsored podiatric conference was held January 27 – 29 and featured three days of exemplary research, evidence-based practices and panel discussions presented by renowned experts in the podiatric field.
"This year's clinical conference delivered on its promise of being the largest and most diverse in the country," said NYSPMA President William Pierce, DPM. "The conference truly encompassed an exciting education program that boasted a hefty agenda from general lectures and exciting workshops to symposiums and learning labs with hand-picked faculty. The NYSPMA is very proud of the success of the clinical conference, past and present."
NY17 featured quick-fire, general lecture presentations followed by dedicated time for interactive Q&A sessions, plus added practice management workshops that allowed podiatric assistants to get the most from their time out of the office. Attendees of the meeting received in-depth case study presentations, demonstrations and participated in thought-provoking panels about the latest advances in the profession.
Nearly 250 exhibitors were onsite featuring the latest in medical devices, products and services. Nine intense and interactive workshops highlighted cutting-edge techniques and progressive practice management tools. Plus, 15 general lectures were moderated by some of the top names in podiatric medicine.
During the conference, two NYSPMA members were recognized for their outstanding achievements:
NYSPMA Vice President Paul Liswood, DPM received the prestigious 2016 American Podiatric Medical Association (APMA) Meritorious Service Award for his role in advocating for the New York State podiatric scope of practice, extending the message about podiatry's critical role in preventative care, and his numerous research-based presentations on the significant health care cost reductions by using a foot and ankle specialist.
NYSPMA President William Pierce, DPM was recognized by the California School of Podiatric Medicine at Samuel Merritt University for his accomplishments as a past graduate of the program. He was presented with a bottle of California wine during an evening reception.
"The NYSPMA Clinical Conference is an exciting opportunity for podiatry professionals to network, socialize and be recognized for their work and dedication within the industry," added Foundation for Podiatric Medicine President William Spielfogel, DPM. "What's more, the educational opportunities that the conference affords our members and attendees are incredibly valuable. It's an event not to be missed."
The NY18 Clinical Conference and Exhibition is scheduled for January 19-21, 2018. Continue to check www.nyspma.org, and follow NYSPMA on Facebook and Twitter for more details. NYSPMA members and students who register by the deadline can attend the annual clinical conference without a fee or at substantially reduced fees.